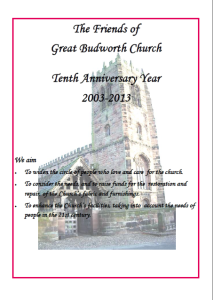 Friends of Great Budworth Church was launched on the 29th September 2003.
It is a recognition of the importance of the wider circle of people who love and appreciate St. Mary and All Saints Church and who wish to be involved in some way in the life and work of the Church.
There are many people living in the local area who have strong connections with Great Budworth Church but who may be infrequent worshippers.
There are also many people who have fond memories of the Church but who have moved out of the area. In addition every year the Church is visited by thousands of people from all over the world, who are moved and impressed by the beauty and history of our Parish Church. The Friends of Great Budworth Church was formed for all these people so that they can create and maintain links with the Church and make their contribution to the restoration, maintenance and enhancement of Church, which we all love.
The Friends organises events for members and issues a Newsletter three times a year.
To receive a membership application or to find out more details about the Friends please contact
The Treasurer
The Friends of Great Budworth Church
The Vicarage
Great Budworth
Northwich
Cheshire
CW96HF