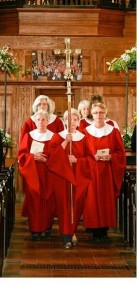 There are presently 20 members in the choir at St Mary and All Saints, made up of 8 Sopranos, 3 Altos, 2 Tenors, 2 Bass and 5 Junior Singers but we are always on the look out for new members. We rehearse after our weekly 10:30am service and at other times particularly leading up to the greater festivals when we also sing at St Mary Chapel, Arley Hall.
The repertoire is simple. The Holy Communion Service is sung to the Addington Service, a setting by Richard Shephard. At Morning Prayer the Canticles and Psalms are sung to Chants.
At Christmas, special attention is always given to preparation for the services of Nine lessons and Carols, both at Great Budworth and at Arley.
The choir is available for weddings and funerals, as required.
In the picture are some of our choir processing down the central aisle prior to a Bride and her father coming into church.