Weddings and Services of Blessing at Great Budworth and Arley Chapel, 2017.
Congratulations in advance on your forthcoming marriage.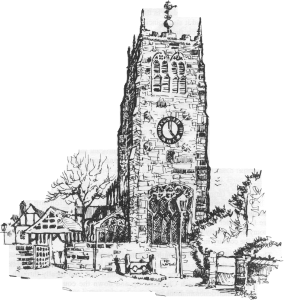 Please read these notes carefully – they are here to help you – and do not hesitate to contact me if you have any questions. At some stage we will need to meet to discuss your service – I am generally available to see couples after the main morning service on a Sunday, which usually finishes at 11.30am, but other times can of course be arranged. Please contact me by telephone (01606 891324) or click here to arrange an appointment.
1.      Marriage in the Church of England.
The official teaching of the Church of England holds that marriage is a lifelong commitment between a man and a woman. Since 2002 however, the marriage in church of divorced persons, in exceptional circumstances, has been permitted within the Church of England, and persons for whom this is applicable should make contact with the Vicar at the earliest opportunity. Please note that this is not possible at St Mary's Chapel, Arley Hall. Services of Prayer and Dedication following a Civil Marriage (Services of Blessing) are also offered – it must be noted however that these are not marriage services and differ in certain significant respects from a marriage service eg. husband and wife enter the church together and no rings are exchanged. As with the marriage service, draft orders of service are available on request.
2.      Preliminaries to marriage in the Church of England.
a)      marriage by banns, one or both of the parties being resident in the parish in question;
b)      marriage by banns, neither of the parties being resident in the parish in question but one or both of the parties being a regular worshipper at the parish church in question;
c)      marriage by banns, neither of the parties being resident in the parish but where one or both have a "qualifying connection" with the parish or church (this may involve an application for a common licence);
d)      marriage by special licence, at the discretion of the Registrar of the Archbishop of Canterbury, both parties being non-residents of the parish in question but with one or both parties having a real connection with the parish or church in question.
If your marriage falls under (b) or (c) you will need to arrange to have your banns called in your home parish ie. where you are actually living, within three months of the date of the wedding, and to bring the Banns Certificate to the rehearsal.
3.      Orders of Service.
Draft Orders of Service are available from the Vicar, with whom consultation is advised before any decisions are made with regard to printing. A decision about the rite to be used for weddings – traditional Book of Common Prayer or modern Common Worship – also needs to be made.
4.      Music.
Please see separate sheet from the Organist, with suggestions for music and hymns. It is very important that you make contact with the Organist as early as possible in your planning. Please note that the use of pre-recorded music is not generally recommended. Any requests for the use of such music will need the agreement of both the Vicar and the Organist, who will ultimately be responsible for judgements as to the suitability of such music within the church. In the same way requests for external choirs, music groups and so on will need the agreement of both Organist and Vicar.
5.      Flowers.
A leaflet describing general guidelines with regard to flowers is available from the Vicar. If there are two or more services on the same day, parties are advised to liaise with each other with regard to floral arrangements.
6.      Parking.
Parking is often difficult in Great Budworth but there is parking at the Parish Field which is at the bottom of Smithy Lane, past the tennis court, bowling green and parish hall. On the day of the wedding this will be signposted.
7.      Rehearsals.
These are usually held in the week before the service but can be arranged at any convenient time to suit all parties.
8.      Photography.
Video or audio recording of the service is subject to copyright, and couples intending to record their service in this way must consult with the Vicar at an early stage in the proceedings. An additional fee is payable to the organist if the service is recorded whether by an amateur or professional (50% for audio recording and 100% for video recording). Official, and unofficial, photography must be discrete and unobtrusive – photographers must consult with the Vicar as to what is, and what is not, permitted.
9.      Fees.
Church fees must be paid by cheque (to Great Budworth PCC) at least two weeks in advance of the service, whilst fees for organist, bells, choir and verger must be paid at the rehearsal. For 2017 the Church fee is £452.00 (slightly less if no banns are called i.e. marriage by special licence or a Service of Blessing). The church fee is made up of an amount payable to the Chester Diocesan Board of Finance and an amount payable to the Parochial Church Council. The fees for organist and verger, choir and bells (if required) are in addition to this and for 2017 amount to £335.00. Fees are increased each year in January so the fee for your service may not be the same as that quoted above.
10.  Arley Chapel.
Weddings, and Services of Blessing, at Arley Chapel are always by permission of Viscount Ashbrook, and weddings always require a Special Marriage Licence. Please speak to the Vicar for further details.
The Revd Alec Brown. Great Budworth, January, 2017.